Elmos World is a fun and happy place.
Posted: Nov 11, 2011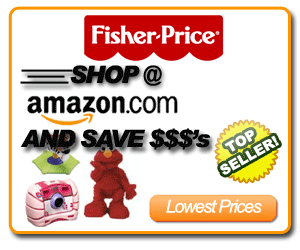 Elmo has been a loving friend to a lot of children for some time now. Over time Elmo has grown and learned to talk, dance, sing, tell jokes and a lot more.
Elmo can entertain a child through different stages of the child's development anywhere from 18 months upward. Elmo's teaching has evolved into other items like DVDs, Potty Training Toys, Safety Comforts like the Elmo Flashlight and much more.
Elmo can help your child have fun learning their Alphabet with Elmo's Alphabet Bus.
Your child may be such an Elmo fan that they want to get an Elmo Red Face Sesame Street T-shirt.
If your child is very young and new to Elmo you may want to consider the less expensive Tickle Baby Elmo. Your child will be able to tickle Elmo on his tummy or feet and watch him giggle. Also while he is lying down or in an upright position he has some really fun phrases to say. Your young child wll love to cuddle with soft Baby Elmo.
Which Elmo Toy From Elmo's World is the one for your child?
---
This year Elmo has his tambourine, microphone and drum set. He sings six rockin's songs so your child can grab an instrument and join Elmo's band.
Elmo also interacts with other Let's Rock instruments which are sold separately. He is dressed in his own concert-style t-shirt. He can tell when your child is playing the Let's Rock Elmo Guitar, Cookie Monster Keyboard or Grover Microphone(all sold separately) and he plays along with them.
His iinsturments are perfectly sized for little hands to beat on the drums, pretend to sing into the microphone or shake the tambourine.
His songs are:
Elmo's gonna rock. YEAH!
What Elmo Likes About You
It Takes Two
Elmo's World
Rock 'n Roll Alphabet Song
Sing Out
Recommended Ages: 18 months and up

---

Elmo Live can do a wide variety of things to entertain your child while they grow.

While Elmo is talking, singing and telling stories his mouth and head move, he makes gestures with his arms and his legs move. Elmo will even cross his legs when he sits on his stool that is included. His bright red exterior and his big eyes which is characteristic of the very popular Sesame Street character will make everyone around Elmo smile.

He starts his interaction when you press his buttons. If you want him to sit on his stool and tell you a story, just press his foot. He dances when you squeeze his hand.

He is just filled with love and shows it by blowing you kisses, tells you he loves you and will ask you to give him a hug and then will tell you "thank you" for the hug. Elmo leads your child into interaction with him which creates a "magical experience" for them.

Recommended Ages: 18 months to 6 years
---
Elmo TMX eXtra Special Edition
This version of Elmo is more ticklish and laughs more than he has ever laughed.
You will have to tickle and play withElmo in the correct sequence in order to experience his silly hidden surprises that he is packed with. He just has a new silly side about him to make you and your child laugh.
Some parents report that even though Tickle Me Elmo Extreme causes you to laugh a lot he is not as soft and cuddly as the original version.
---
This Elmo will give your child kisses and doesn't even mind if they kiss him back. He is soft, cuddly, durable and can be cleaned

with just a damp cloth. He is the perfect size for your toddler.
When his hand is pushed he has several responses, so you always get a surprise. Like all Elmos he is very loving and positive.
A nice thing is he can be turned off at bedtime.
Your child will love this Elmo for months to come and will hardly put him down. You might want to get a backup.

---
Elmo Puppet has child-safe eyes, a silly orange nose and silky soft red fur. His movable parts are his two arms and mouth.
Use Elmo Puppets to make your baby smile and tickle your little ones. Your children will love using the puppets to talk to each other.
If you are one who has occasion to visit children in the hospital then Elmo Puppets from Elmo's World are good carry alongs to make them smile.

---
Tickle Me Elmo Doll presents himself in many ways. Visit Amazon.com and find the Elmo Doll that is best for you and your child. Elmo is a friend to adults as well.

---
Fisher Price Elmo Has Been Around For a Long Time!
Posted: Feb. 26, 2013
The lovable furry red monster Elmo mady his debut television appearance in November, 1985. Since that time he has become the childhood friend of every toddler and even the parents. Today Elmo is a pop icom that is popular worldwide.
The Elmo doll became really huge when the Tickle Me Elmo version was introduced in 1996. Since that time many Fisher Price Elmo dolls have become the must have Christmas gift for many children.
Original Tickle Me Elmo
Not even Fisher Price expected the impact that the original Tickle Me Elmo toy would have on the toy industry. Parents were having a hard time getting their hands on one of the popular dolls. There is even a magazine article that reports that during a 300 person stampede by customers attempting to purchase Elmo a Wal-Mart employee was hurt with multiple injuries.
Even though the list price at that time for Tickle Me Elmo was only $28.99, because of the scaricity some people were paying up to $1,500 for the doll.
Other Tickle Me Toys
The next year Fisher Price launched Tickel Me Ernie, Tickle Me Big Bird and Tickle Me Cookie Monster, none of which came anywhere close to the popularity of Tickle Me Elmo.
These Original Tickle Me Elmo dolls are actually considered valuable colletors items. Sometimes you can pick one up at a fairly decent price at Amazon.com.
On the 10th Anniversary of Tickle Me Elmo, Fisher Price came out with Tickle Me Elmo TMX (Tickle Me Elmo Extreme). This version of Elmo delights your child even more. When his sensitive tickle spots (chin, tummy and toe) are touched, he will fall to the floor, role on to his stomach and pound his fists on the ground, thereby providing more entertainment for you and your child. The amazing thing is that he can even stand up on his own after he has finished with his laughter.
The Tickle Me Elmo 10th Anniversary version is still very popular and you can get some good deals on it at Amazon.com.
The TMX Elmo is a classic collector's item. Even adults love to watch him do his stuff.
If you have a child that really needs to have many good laughs then this Tickle Me Elmo will provide that pleasure for years to come.
The Elmo Live Toy was released in Oct., 2008 and is the most technologically advanced Elmo doll. Elmo Live can tell stories and jokes, dance, sing, cross his legs, rap, blow kisses, wave his arms, sneeze, say "Thank You" and a lot more.
Elmo Live does not just speak phrases, he actually interacts with your child. For instance, he will ask for a hug and then will give a "Thank You" as if your child has actually hugged him.
When Elmo falls over he will ask that you help him back up and then when he is upright again will say "Thank You". This type of interaction is a lot of giggles and fun for your child.
Elmo Doll
This is not a toy that your child will lose interest in before Christmas morning is over. There will be giggles and smiles for months to come. Everyone in the family will enjoy watching your child's happiness as they play with their new playmate Elmo.