Wow! Elmo's World DVD collection is extensive and growing. Speaks to Elmo's popularity.
Elmo DVDs are not only entertaining they are educational. As Elmo learns about something your child will also learn about the same thing.
In one DVD Elmo learns all about babies and how to play with them. He also learns all about dogs and how to respect them, farm animals, goldfish and he does this in such an entertaining manner that the young watcher will enjoy learning along with Elmo.
Here are just a few selections of Elmo DVDs that you will want to get.
---
This is the delightful learning DVD in Elmo's World that is mentioned above.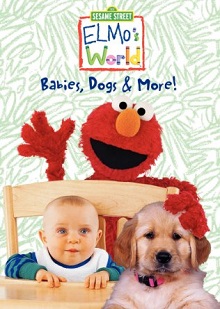 This is a great DVD to help teach your child how to get along with the family dog. Let them learn how Elmo does it.
Unless you happen to live in a rural area your child probably won't have an opportunity to learn first hand about farm animals. And, even a trip to the zoo doesn't do this for them. So, watching Elmo learn about farm animals is a great way to introduce your child to life on the farm.
Give your child an opportunity to learn about other babies along with Elmo. Younger children enjoy this DVD because it does not introduce the more tedious things such as learning the alphabet, potty training and other "grown up" things. It is fairly fast paced and more animated which the young ones seem to really enjoy.
It is a good "first" Sesame Street video for your little ones.
Available online at: Ebay.com
---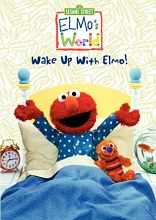 It is easier to wake up when you have your friend Elmo to help you greet the day. Elmo with his friends Bert & Ernie, Mr. Noodle and the Count help answer your child's questions about "how do you sleep", getting dressed and "how do you take care of your teeth".
You child will want to start doing things for themselves that you used to have to do for them. If your child is hesitant about going to the dentist then this DVD will help.
In Elmo's World learning is always Fun for your child.
Available online at: Ebay.com
---
Would you like to impress upon your child the importance of fire safety and show them what to do if their is a fire in the house? Then let Elmo help you. After his own fire scare, he and Maria pay a visit to a real New York City firehouse.
They learn about fireman's protective clothing and learn that in case of a fire they need to "Get Low and Go".
Elmo even gets to slide down a real fireman's pole.
Your child will learn to appreciate how dangerous fire is and what they should do to protect themselves when a fire breaks out.
Available online at: Ebay.com
---
In this DVD your child will get to learn about the wild frontier. They can experience with Elmo how to ride a horse, kick up their heels in a hoe down and ride a stagecoach. All this is accompianed by some good country music.
Features classic cowpoke songs and plenty of fun with his partners the Noodles, Marshall Grover and special guests country singer Travis Tritt and Broadway's Kristin Chenoweth.
DVD-ROM features: Weblinks and printable coloring pages.
For Elmo and Sesame Street fans and wanna be cowboys this one is a winner.
Available online at: Ebay.com
---
Buy Elmo
Through DVDs Elmo makes learning fun for your little ones. Visit Ebay.com and find many more fun and enjoyable Elmo DVDs for you and your child. They will want to watch their Elmo DVDs over and over again and they will learn to do so much on their own by doing it with Elmo.
About Contact Privacy Hosting Sitemap
---
Copyright 2016 - CSP, Inc. All Rights Reserved
All brand names and product names used on this website are trade names, service marks, trademarks, or registered trademarks of their respective owners. Futhermore, no mentioned product or brand endorses this website.
"CSP, Inc. is a participant in the Target Affiliate Marketing Program, an affiliate advertising and marketing program that pays advertising fees to sites that advertise and link to Target.com."